Route length: ca. 250 KM

Gas station: Godafoss, Fludir, Hrauneyjar e.g.

Road surface: 60% Gravel
Driven with a Suzuki DR 250, Suzuki DR 400S, Yamaha WR 450 und KTM 640 Adventure.

Route description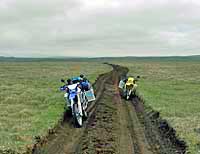 We leave with a heavy heart this beautiful place. We want to drive on the parallel runway to Kjölur southbound. The track is only very seldom traveled, we are on the entire length of a single person met.




Gullfoss

The end of the road is not far from Gullfoss, the Waterfall which spray

you can already

see pre kilometers. A highlight on any Iceland trip.




Not far from the Gullfoss is the 2-th tourist highlight, the geyser. The area is fenced and the Strokkur, shoots his fountain as a set pm every 5min. to the sky; waiting for tourists with cameras

unsheathed

this spectacle capture.
Onlineshop EN Tourbook Iceland Offroad
Detailed route descriptions of 21 offroad routes with sketch and sights so that it can also be used whitout GPS device.
Travelbook (Tourbook) in DIN A5

GPS-Data CD

As an option, there is a CD with the GPS routes and the most important points as accommodations (camping), gas stations and tourist sites as POI's on it
click here

USB flash drive (4 GB)

However, the file contents of the USB stick is the same as on the data disc, the USB stick can be used again later.
click here

Micro-SD card (2GB) only for Garmin device


The Micro-SD Card is only compatible for Garmin devices. She contents all the GPS data and the overlay routes. The card need only to be insert in a garmin device and you can drive on. click here